We had a chance to sit down with Nitti one of the member that co-founded Foodsenz who is involved with the creation, process, sales, marketing, advertisement and even delivery to customers. Nitti is actually a mechanical engineering undergrad at the University of Nottingham Malaysia (https://www.linkedin.com/in/nittikornchian/). Nitti's degree choice resulted from my curiosity towards understanding of how things work, and that same curiosity has leeched into the world of business and finance. He is currently actively trying things out and taking on many meaningful experiences, and FoodSenz was one of them.
FoodSenz is a social enterprise that gives surplus produce from our local farms a second life in the form of healthy food products. The team's goal in mind is to play a part in tackling other environmental or social issues throughout our initiatives. Some of our efforts include packing our orders with repurposed packaging, hiring the unemployed to make our products, etc.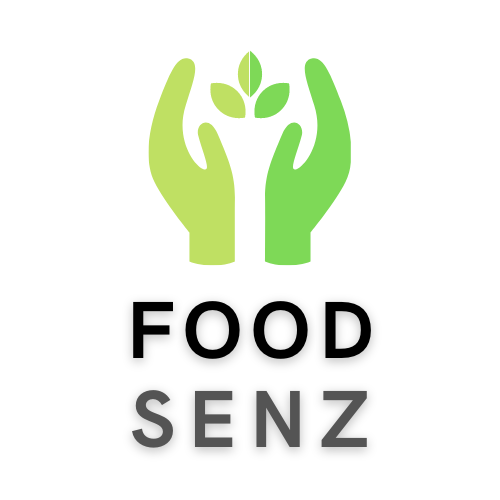 Q: How did you start Foodsenz (the idea of Foodsenz)? And what is the reason of starting it?
A: FoodSenz was created through Youth Leadership Academy, a summer program by McKinsey Malaysia. The program aims to equip students like us with entrepreneurial skills and coaching by building our own social enterprise. I was put together with a few other high-achieving students across Malaysia who shared a passion for environmental sustainability. After rounds of brainstorming and pivoting, FoodSenz was born!
Q: There are many good reviews about the jam, how did you manage to get the "chef's-kiss/perfect" jam?
A: Fun fact: the recipe isn't actually ours! Our role is to play as a middle-man in selling a product that would play a part in helping the environment, which is our top priority. In fact, none of us have had any culinary experience either, so we weren't exactly the best people to trust with a recipe. Before working with our current strawberry jam supplier, we had to go through a long and tedious journey of "trying out" and vetting many different suppliers to see if we could work something out. Once we find a partner who could align with our values, we then look into the business aspects of the partnership: What would the logistics be like? Is it feasible? Are the products marketable (do they taste good, etc.)? The list for our due diligence goes on before a partnership is formed. In the case of our current supplier, everything checked out, including the product — a rich natural strawberry jam. Aside from being affordable and healthy, every purchase helps make an environmental and social impact!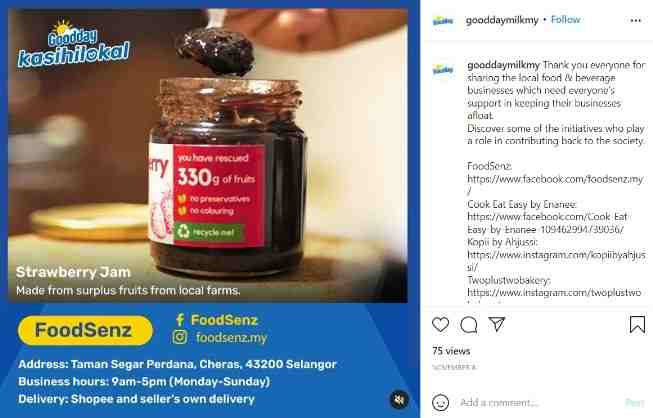 Q: Why did you name it Foodsenz? Is there a special meaning behind it?
A: We initially wanted to go with FoodSense, which goes along with our original slogan of "Less Waste, More Sense." However, as the name has been used elsewhere, we did not want to risk any potential trouble and stuck with FoodSenz instead. We've had a few identity changes along the way, but our value remains the same — tackling the issue of food waste in Malaysia.
Q: What were your struggles when you started this? And how did you overcome it?
A: As with many other businesses during the pandemic, I'd say one of our biggest struggles throughout this journey was having to work remotely in a team. This was especially difficult considering the logistics involved in operating our business. While we never really perfected our remote working efficiency, I'd say one thing that has helped the most was to focus on delegating our tasks, and delegating them appropriately. It's important that each task falls into the right hands, considering their commitments and roles in the project. Once that's out of the way, your team should also have a solid progress tracking system or routine to make sure that your project stays on track.
Q: How did you achieve the 480 sold on Shopee?
A: We didn't actually sell all 480 jars from our first batch on Shopee; most of them were delivered personally. Our first batch involved a lot of effort in reaching out, including sharing in relevant Facebook communities, social media advertising, etc. Once we got the word out quickly, it creates a snowball effect that ultimately leads to more sales down the road. As such, it's crucial to figure out your target audience as early as you can to avoid wasting your marketing efforts and resources.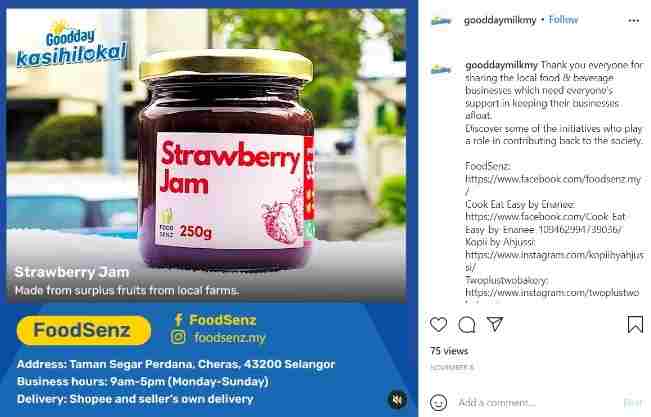 Q: If someone wants to do something similar but don't know how to start or have lack of resources, what are your tips and advice for them?
A: Finding the right supplier was honestly one of our biggest hurdles. If you could get that right, the rest of the puzzle should come together pretty quickly. There isn't an easy way out of this, and a friendly cold-calling/emailing template would be your best friend. Also, don't be afraid to pivot your ideas at any point throughout the journey. Better ideas always come up as you go, and are usually worth considering before getting pushed aside. Be agile, make a quick analysis (SWOT, a Cost-Benefit Analysis, Decision Matrix, etc.), and see if it's worth pursuing. We've had to change our business model several times before we got here too!
Q: What are your future plans for Foodsenz?
A: The obvious next step is to expand our product lineup. We have been working on this for a while now, and are currently in talks with potential suppliers to make it happen. The end goal here is to have a presence in every Malaysian's home, if not further. The more we sell, the more we rescue! We want our efforts to not only make a direct impact on the tons and tons of surplus produce, but to also create an awareness on the issue of food waste among our fellow Malaysians.
---
PS: The strawberry jam is one of the best and is delicious. Prefect on toasted and un-toasted bread and Hup Seng biscuits. It is one of the kind, where it is not too sweet or sour prefect for you and your child 😋. Get yours here!